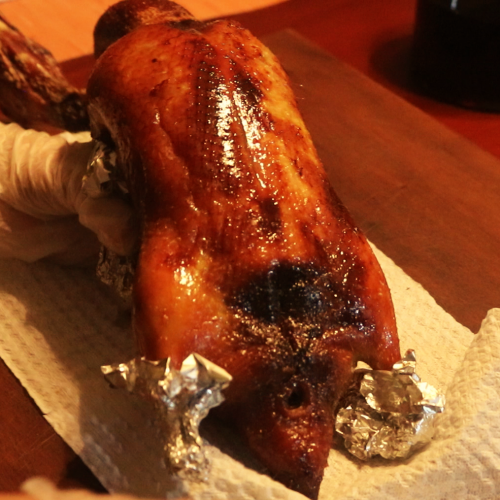 Peking duck recipe
Peking duck recipe is delicious, and it can be served with both plum sauce and fruitsauce
Equipment
A small bowl

Serving platter

Preheated oven

oven rack

a large pot

Rosting pan
Ingredients
1

whole

duck

½

teaspoon

ground cinnamon

¼

teaspoon

ground white pepper

½

teaspoon

ground ginger

⅛

teaspoon

ground cloves

3

tbsp

soy sauce

1

tbsp

honey

1

sliced orange

chopped parsley

2

tbsp

sugar

salt

2

teaspoon

white vinegar

onion

½

cup

plum jam

¼

cup

chopped chutney
Instructions
Firstly rinse the duck inside out and using a paper towel, pat it.

In a small bowl, mix ginger, cloves, white pepper, and cinnamon.

Sprinkle one teaspoon of the dry mixture into the cavity of the duck.

Add two tablespoon of soy sauce to the dry mixture and stir it.

Rub the spice mixture evenly over the body of the duck.

Cut one onion, and tuck it inside the cavity of the duck.

Marinate it for at least 2 hours.

Place the duck on the rack and steam it for an hour in a large pot.

Using two spoons lift the duck and drain onion and juices from its cavity.

Preheat the oven to 375 degrees Fahrenheit.

Place the duck breast side up in the roasting pan. Carefully prick the skin of duck using a fork.

Roast it for 30 minutes in the oven.

During roasting, mix honey and soy sauce in a bowl and brush the honey mixture onto the duck after 30 minutes.

Turn on the heat up to 500 degrees Fahrenheit, and roast the duck for 5 minutes

Prepare the duck sauce by mixing sugar, plum, vinegar, and chutney in a bowl.

Place the roasted duck in the serving platter and garnish with chopped parsley and orange slices.

Use the sauce for dipping and enjoy this dish.